A simple job took them to new product and eventually starting a company around it. This is the story behind Onion, strange but yes Onion. As project they started using Arduino led them to make a simpler IoT device for software developer.
As many of you may not know the main difference between the Arduino and Raspberry Pi, In one line I could say that the Arduino is micro-controller based system without operating system and the Raspberry Pi is micro-processor based system with an operating system. In non-technical term I would say, Arduino is for a simple custom job where you do not have complex algorithm and processing power is less, while Raspberry Pi is for complex job. Also, Raspberry Pi tend to be favourite for coding and  Arduino for electronics.
The Onion team research on all the cool system in market and came up with their own open source product. You can read more about their philosophy here.
In 2015, they completed successful Kickstarter project Omega –  with $267,851 USD backing from 4,459 backers. Later in 2016, another successful Kickstarter and IndieGoGo project for Omega2. Here is the comparison between all the products.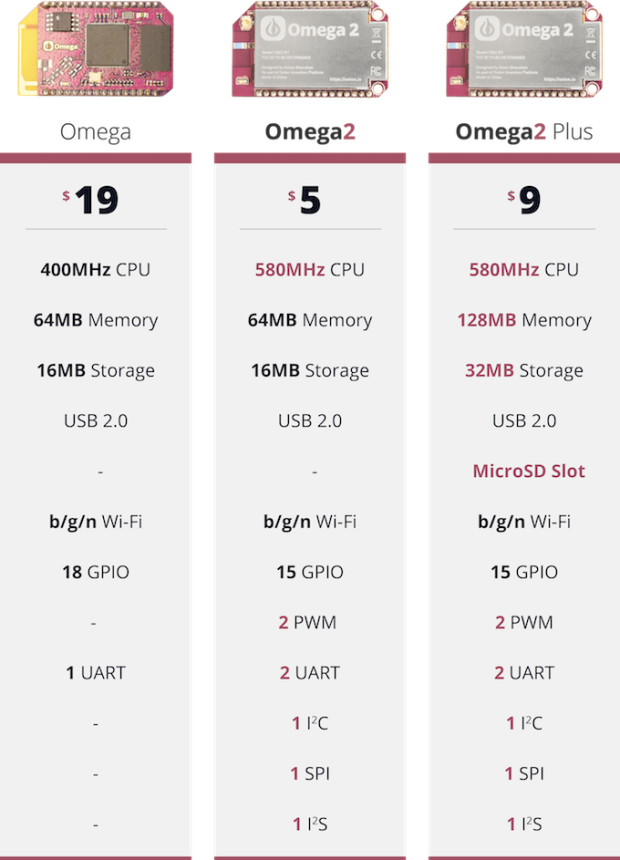 The echo system for the Omega2 is simple. It consists of the expansion port and dock station. The Dock station offers connectivity between Omega2 board and expansion port with easy access to computer/power supply.
Single board computers – Omega2 and Omega2 Plus
Also, check out various Omega2 Docking station to easily use Omega without external wiring/breadboard circuit.
Check these expansion modules to add additional functionality on your omega2.